For Our Egyptian Family...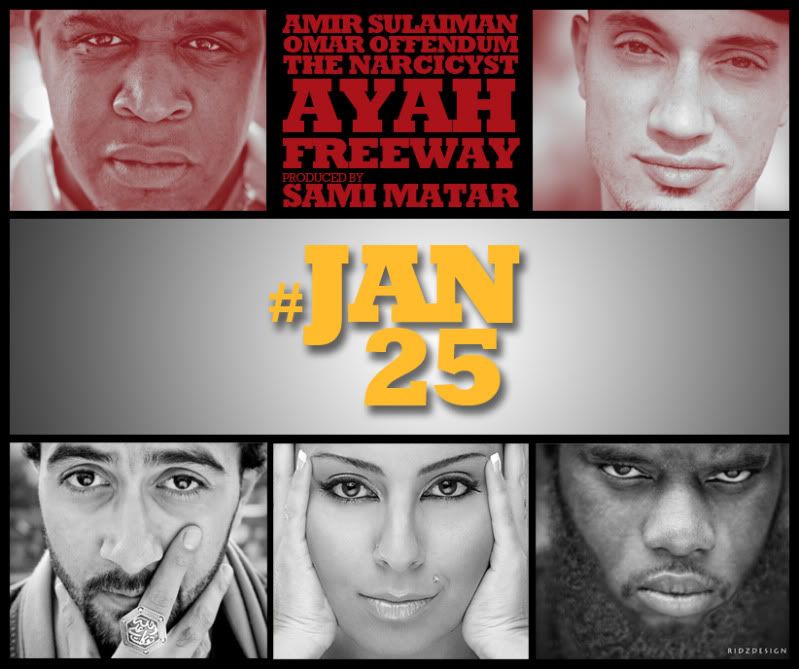 #Jan25 (Produced by Sami Matar)


Inspired by the resilience of Egyptian people during their recent uprising, I teamed up with several notable musicians from North America to release a song of solidarity and empowerment. The track is fittingly titled "#Jan25″ as a reference to both the date the protests officially began in Egypt, and its prominence as a trending topic on Twitter. Produced by good friend Sami Matar, a Palestinian-American composer from Southern California, and featuring the likes of Freeway, HBO Def Poet Amir Sulaiman, Canadian R&B vocalist Ayah, my brother The Narcicyst & myself – this track serves as a testament to the revolution's effect on the hearts and minds of today's youth, and the spirit of resistance it has come to symbolize for oppressed people worldwide.
Produced by Sami Matar. Shouts to Blamethelabel, Mb.
Ta7ya Masr ... 3iiish Egypt!!!